When You Don't Need to Fly, Don't. But When You do, Fly The Greenest With Wizz Air
At Wizz Air, we believe that air travel should not be a privilege. Rather, we want to create a world of opportunity for all through affordable travel. While we gave the freedom to travel to more and more people, we have also proven that growth and sustainability can be achieved hand in hand. By breaking down barriers between people and air travel we have shown a whole industry how aviation can be more sustainable.
Maintaining the lowest CO2 in the aviation industry
One of the key ways we have tackled sustainability is by working to reduce our CO2 emissions per passenger kilometre which for 2022 stood at 55.2 grams; the lowest of any of our major competitor airlines in Europe. If you drove alone in your car, your carbon emission per kilometre would be around 100 grams. When you fly with Wizz Air, your carbon footprint is about the half of that per kilometre in the car. If every airline was as efficient as us, emissions in Europe would fall by a third overnight. We have achieved this through crucial business model and design decisions such as maintaining a high seat density and therefore flying with a high load factor – business class isn't something we have ever considered, never mind implemented.
Operating a young and efficient fleet
Operating a young and efficient fleet is also instrumental to maintaining low CO2 intensity levels. Since our first flight in 2004, we've always operated the Airbus A320/321 aircraft family and we currently have one of the youngest fleets in the world, with an average age of just 4.6 years! We introduced the Airbus A321neo in 2019 which is the most efficient single-aisle aircraft, with the lowest fuel consumption per seat-kilometre in its category today. These new aircraft are powered by two Pratt and Whitney geared turbofan engines and feature the widest single-aisle cabins with 239 seats in a single class configuration. In short, these are by far the most fuel and cost-efficient aircraft in their class and they support us in maintaining our position as the most environmentally sustainable airline in Europe and globally, which was recognised by the CAPA – Centre for Aviation Environmental Sustainability Awards 2022.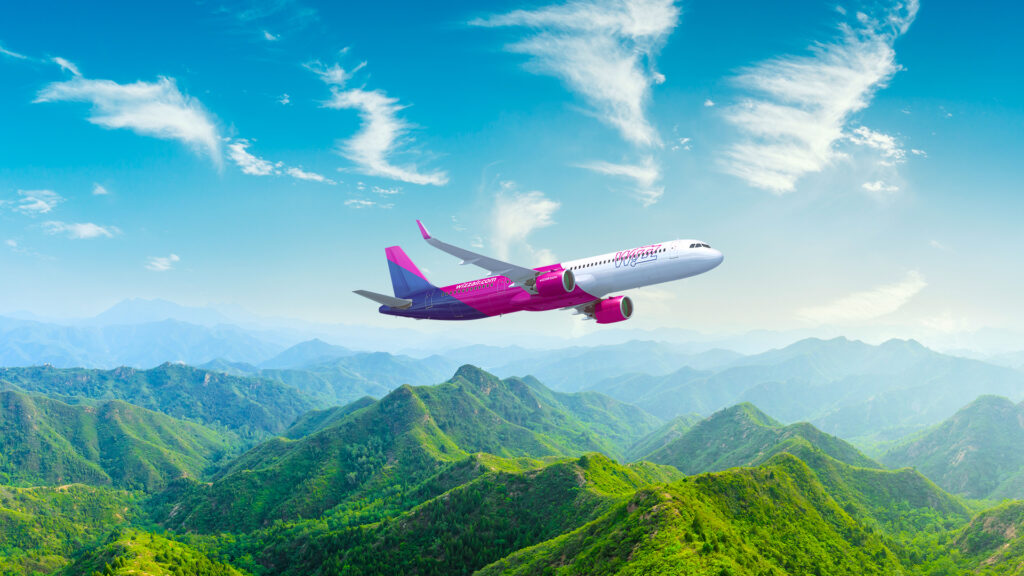 Ensuring fuel-efficiency
In 2021 we fully implemented our Mobile Electronic Flight Bag (EFB) project. The EFB is an electronic management device used by flight crews to perform flight management tasks more efficiently with less paper. The implementation of the EFB at Wizz Air marks a significant step-change for in-flight optimisation and helps our pilots make more accurate fuel planning decisions based on instantly updated data. Rather than simply replacing printed manuals and documents with iPads for pilots, the EFB helps to improve fuel and operational efficiency in numerous ways. The tablet devices are equipped with all essential documentation, applications and performance monitoring that is a prerequisite to prepare for flights. The pilots remain constantly connected and able to receive real-time information and changes that affect flight and fuel planning. Having the latest data available on all factors impacting flight operations, the pilots can make well-informed decisions and optimise fuel uptake with high accuracy. The new system is expected to help reduce fuel consumption through more precise flight planning and weight reduction, which will contribute to our emission reduction targets. The availability of recalculated flight plans and the optimisation possible prior to, or even during the flight saves over 4,500 tons of fuel per year, reducing greenhouse gas emissions by over 14,000 tons. Another benefit of the EFB is the estimated saving of about six million sheets of paper a year, the equivalent of saving more than six hundred trees.
Adopting sustainable aviation fuels
Another important avenue to consider when discussing sustainability in the aviation industry is sustainable aviation fuel (SAF). SAF will play a significant role in enabling the airline industry to meet net-zero emissions by 2050. We have already adopted SAF to ensure compliance with regulatory requirements which are currently mandatory in Sweden, Norway, and France. Last year in June we operated our first green demonstration flight between Bucharest and Lyon for the European Commission's sustainable mobility conference. Our modern Airbus A321neo aircraft took 4.5 tonnes of a SAF blend consisting of 30% pure SAF and 70% A1 jet fuel (total block of fuel was 9.5 tonnes). Taking everything into account for the return trip, the uplift of the SAF delivered a CO2 emissions reduction of over 10% in addition to what we can already achieve through our highly efficient fleet and fuel saving initiatives. This represented a significant success in using SAF, and a pivotal moment for Wizz Air.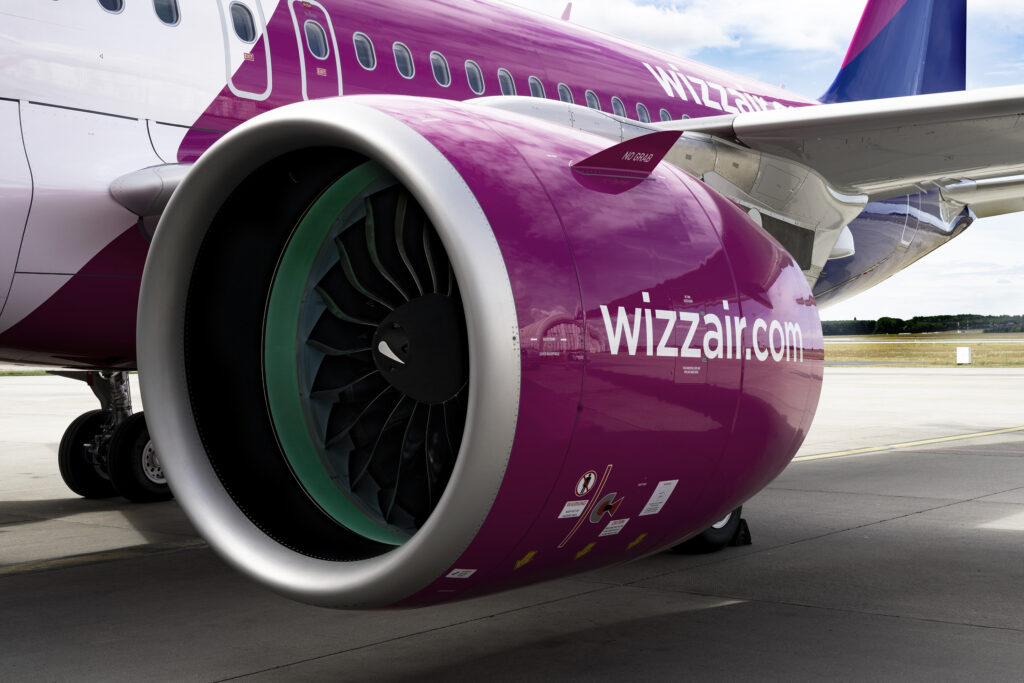 Exploring hydrogen aircraft
Looking forward, we expect the evolution of the global hydrogen ecosystem to play a significant part in our future sustainability initiatives. We signed a Memorandum of Understanding with Airbus on their ZEROe Hydrogen Project to better analyse the impact the aircraft will have on our fleet, operations, and infrastructure. We are supporting the project by sharing key commercial and operational input with Airbus to provide ultra-low-cost carrier-related insight to the project team. Working with Airbus on this project will provide us with a much better understanding of how a zero-emission aircraft could be put into service and how it will impact Wizz Air's operations, processes and performance efficiency.
Supporting green choices
Echoing our collaborative work with Airbus, we have also joined forces with Rentalcars.com and Green Motion to launch a car rental reward scheme for our passengers, offering a 10% cashback reward for choosing an electric or hybrid vehicle. Green Motion not only operate with an eco-friendly fleet, but they also reduce their environmental footprint by consuming renewable electricity when available and using sustainable materials in their vehicles. Their services are available in many of Wizz Air's bases and destination airports, so it made sense to encourage our customers to drive consciously with the greenest option, if the only time they want to use a car is when they really need one.
Focusing on in-flight sustainability
A resource efficient, circular economy is an important part of any sustainability initiative and that's why we have been flying with ELeather seats since 2011. The ELeather manufacturing process is sustainable by nature – recycling waste leather, which would otherwise be destined for landfill, into a durable material with strong environmental credentials. The manufacturing of these seat covers contributes to 65% less CO2 emissions, 77% less land use, and 68% less water consumption when compared to traditional leather seats' production.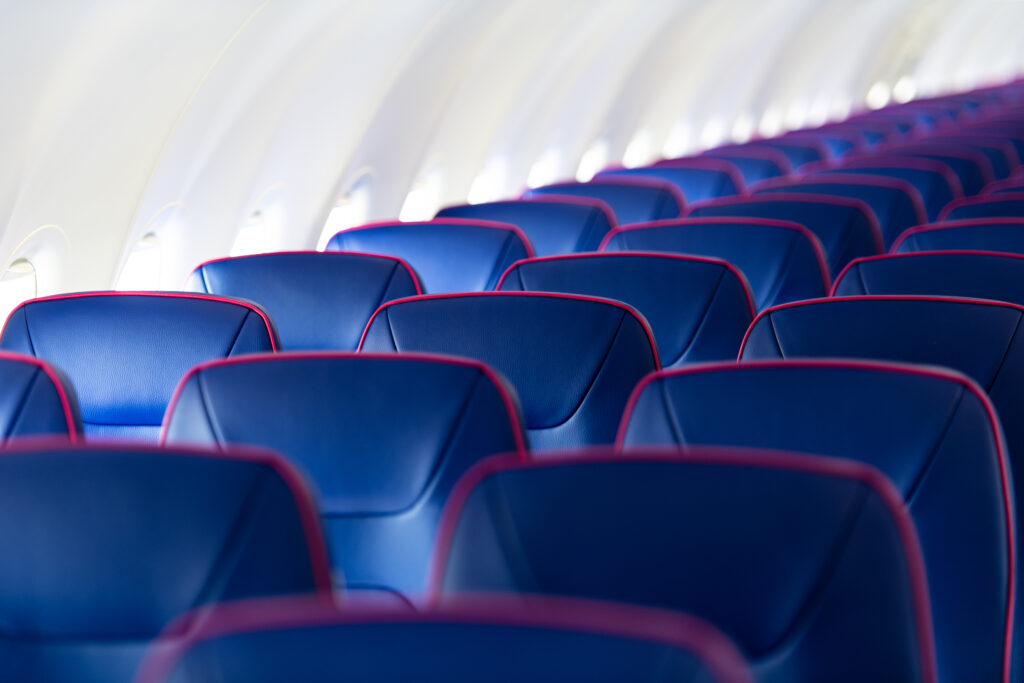 We are pleased to offer our passengers products onboard that go beyond recyclable packaging. For example, our suppliers are using sustainable ingredients, through buying locally sourced food to favouring sustainable sourced cocoa. We have also replaced plastic cutlery and packaging of our onboard dry store items with those made of more eco-friendly and biodegradable materials.
Our onboard magazine is printed on FSC-certified paper. That means it is made from well-managed FSC-certified forests, recycled materials and other sustainable materials. Furthermore, it's printed at sustainable, industry-leading printers where 100% of its energy comes from renewable sources with zero CO2 emissions and 99% of all waste is recycled.
A plane will never be greener than a train or an electric vehicle. But Wizz Air is, and will be, the greenest choice of flying. Because when it comes to a crucial issue like sustainability, we believe in the facts of today. Not promises of the future.