For most, the past two and a half years have seen travel plans being placed firmly on the backburner. For the first time, we have been shown what a privilege travel is – something to be valued and cherished, not taken for granted. But, as borders remained closed, so did opportunities for those who relied on tourism for income, causing devastating knock-on effects in some of the world's poorest communities. Small enterprises that hosted traveller-focused offerings such as homestays and meal experiences were left unable to buy simple necessities such as food and medicine.
The pandemic undoubtedly gave us time to think and consider the impact of our holiday choices. During the pandemic, adventure travel experts G Adventures reported a rise in travellers looking for more meaningful and responsible travel, ensuring their money was benefiting local economies as a priority.
In fact, so passionate are they about driving change in the responsible travel sector that their founder, Bruce Poon Tip, published his first Instabook early in the pandemic, calling on travellers and the wider travel industry to rethink how they travel.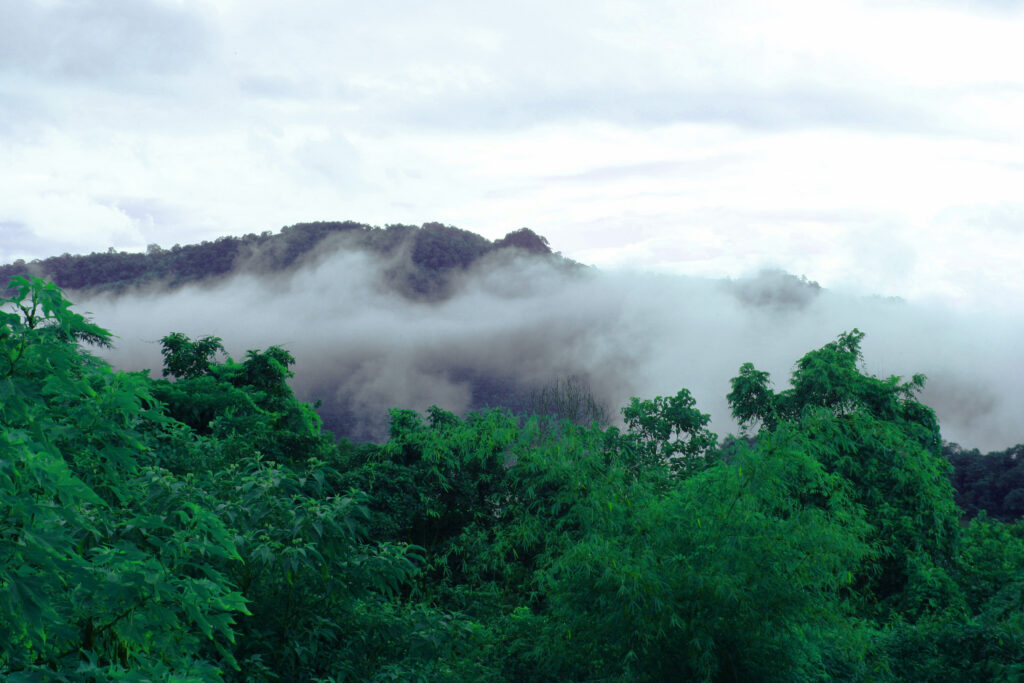 "This is about you… it's about me… it's about everyone. As a traveller, you have enormous power and privilege. Your decisions are what drive the circular economy that creates those unique experiences you want to post on Instagram. This is an incredible moment and I hope you understand your power of purchase and that all we have to do is embrace our freedom to travel and connect with the parts of the world that we want to explore." – Bruce Poon Tip, Unlearn: The Year The Earth Stood Still.
With their 32-year-old business founded on the belief that travel can be the greatest form of wealth redistribution that the world has ever seen, G Adventures is no stranger to leading the responsible travel narrative. Their first tour was born from an interaction Bruce had with an Indigenous community in the jungles of Ecuador. Now, the global operator runs their small group adventures in more than 100 countries, all focused on harnessing the power of community tourism and ensuring travellers are giving back to the destinations they visit.
A time for transformation
With discussions around climate change, the environment, and the global economy hot on the headlines, many are debating the ethics of travel. In the eyes of G Adventures, travelling less isn't the solution. Some of the world's poorest communities rely on tourism for income and without this income, vital conservation and environmental projects that protect wildlife, oceans, and forests would be unable to continue. It's time for travellers to rethink selfish travel habits and avoid those holidays with little or no positive impact or cultural exchange: don't travel less, travel better.
"The pandemic undoubtedly gave us time to think and consider the impact of our holiday choices"
Five ways to travel better:
The power of the wallet: as a traveller, you have power over how the travel industry reshapes. By spending money, you are casting a vote and reinforcing a certain type of travel. Choose to travel with a company that reflects your values and be sure to do your homework since greenwashing is rife – checking the credentials of a business is essential.
G Adventures publish a 'Ripple Score' on their trip pages that shows what percentage of the money spent in the destination goes into the hands of locals.
Plan: there are actions you can take before you board a plane to minimise your impact when travelling. Bringing a reusable water bottle is a simple but effective way of cutting down your single-use plastic waste. Try built-in filter options if you're not confident you'll have access to clean water. Avoid single-use amenities in hotels and instead, bring your own soap bars. While these actions seem small on their own, a collective impact starts a movement.
Spread the wealth: make sure your money reaches the hands of locals. Stay in a locally-owned hotel or, even better, with a local family in a homestay. Not only does this help support the communities you visit, but also offers an amazing opportunity to learn about local culture and customs. Don't buy souvenirs at hotel gift shops. Instead, head out into the markets and find the true local gems.
Why not set yourself the challenge of having at least one meal with a local person in every place you visit?
Fly smart: there's no denying the impact that air travel has on carbon emissions. If you're going to board a plane, you need to minimise the negative impact and optimise the positive at the other end. Travelling light will reduce plane weight and use less fuel. Flying direct cuts emissions significantly and, wherever possible, using local transport rather than short domestic flights helps to cut down your carbon footprint.
Don't leave your values behind: don't compromise on your beliefs and values just because you are in a different country. Would you take a photo of children you didn't know in your hometown? No. Then why would it be ok to do it when you're abroad? Be sensitive to local and Indigenous communities by not taking photos without their permission and dressing appropriately. Avoid supporting animal attractions such as elephant riding that often involve cruel practices and prevent wild animals from being where they belong – in the wild.
Reconnect to your world with small group travel.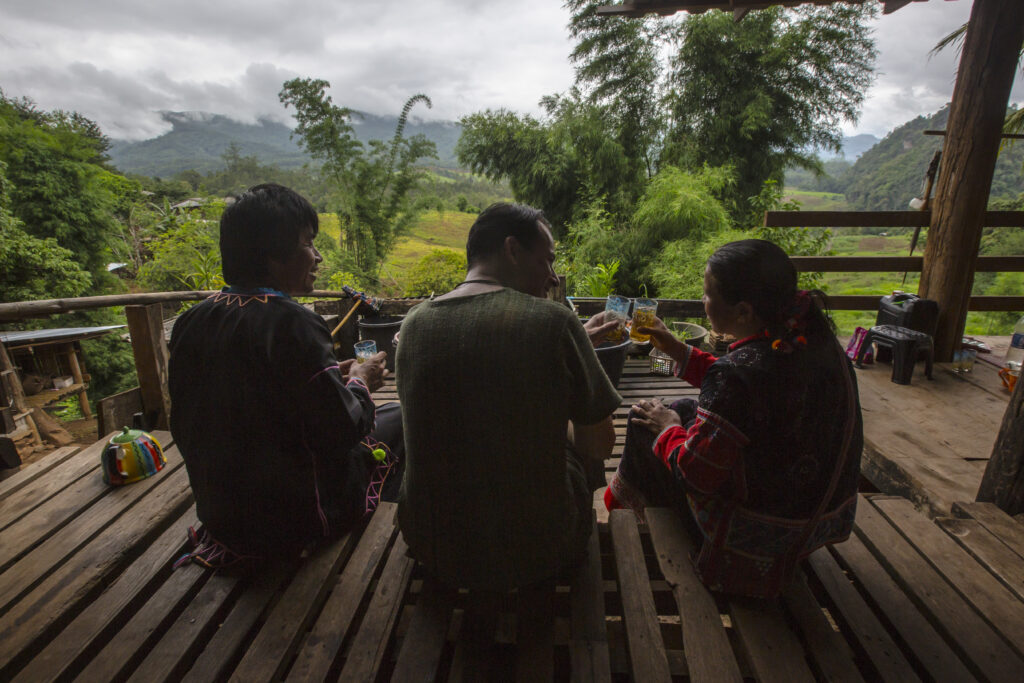 Staying with local communities – hiking through forests, cycling past local villages, sleeping on floating raft houses, and paddling the clear waters of Thailand's southern islands, all while giving back to local communities. This two-week G Adventures tour shows a different, more local side to Thailand away from the tourist trails, taking you to visit three remote hill tribe communities north of Chiang Mai, where you'll enjoy a local homestay, try a traditional sauna and tuck into picnics in the jungle. In Kanchanaburi, a cycling tour allows you to get to know the local area before heading out on a hike to Erawan National Park's famous waterfalls and pools. In the south of Thailand, an adventure aboard a traditional long boat takes you to the islands of Ko Hong and Ko La Ding, while a visit to the Laem Sak Community will see you kayaking through mangroves and trying your hand at Batik Making, which helps to support the local community. With a Ripple Score of 100, travellers can feel confident knowing that 100% of their money spent in the destination goes to a locally owned business.
Price: From £1,499 per person exc flights
When your trip is endorsed by the world-renowned primatologist Jane Goodall, you know it's going to be good. This week-long tour is part of the National Geographic Journeys with G Adventures collection. Not only will you spend time on safari in the magical Serengeti where you can spot lions, leopards, elephants, rhinos and buffalo, but you'll also visit the community of Mto wa Mbu, where you'll enjoy a tasty lunch cooked by the local women. The project, supported by G Adventures' non-profit partner, Planterra, helps to provide jobs to locals while celebrating culture and heritage. Growing economies in villages near national parks increases the protection of the environment and biodiversity. Another highlight is the Clean Cookstoves project included on the trip, where you'll meet a group of female engineers from the Maasai community who are working to install clean cooking stoves in the homes of the Maasai villagers, which reduce 90% of the harmful cooking smoke in families' houses. On top of supporting these important projects, you'll also sleep in tented camps near the Ngorongoro Crater, which is home to over 25,000 animals.
Price: From £2,999 per person exc flights
Staying in a destination for longer is a good way to reduce your carbon emissions and allows you to travel further and deeper. This 21-day adventure will show you the best of Peru's active, wildlife, food and historic highlights, from visiting wineries in Huacachina, flying over and visiting a desert cemetery at the Nazca lines, taking city tours of historic Arequipa, dipping in thermal baths in Colca Canyon and staying with a local family in a homestay by Lake Titicaca. Cooking classes in Cusco and hiking the iconic Inca Trail to Machu Picchu are also on the agenda. You'll also visit a number of G Adventures supported social enterprise projects, including Ccaccaccollo Community Women's Weaving Project, which helps to preserve Indigenous weaving techniques and offers employment and empowerment to women in the community. After four days of hiking, travellers will unwind and get their nature fix at the exclusive G Amazon Lodge in the Tambopata region, where they will take jungle walks, go caiman spotting, visit a local swimming hole and spot some of Latin America's most incredible wildlife.
Price: From £3,049 per person exc flights